Create a strong, resilient body that will support you for life… all from the comfort of your own home!
Led by J2N Founder & Head Coach, Jenn Lymburner, Unbreakable Bodies Online includes weekly at-home training sessions, as well as additional resources and coaching support all easily accessible via this user-friendly online education platform and a private member's only Facebook group. Each workout is guided by Jenn with clear instruction and scaling options.
Building unbreakable bodies does not need to be extremely time consuming or require a ton of space or equipment. All workouts will be bodyweight only [for now] with a few options based on standard at-home items (i.e. a broom handle, chair or couch, towel).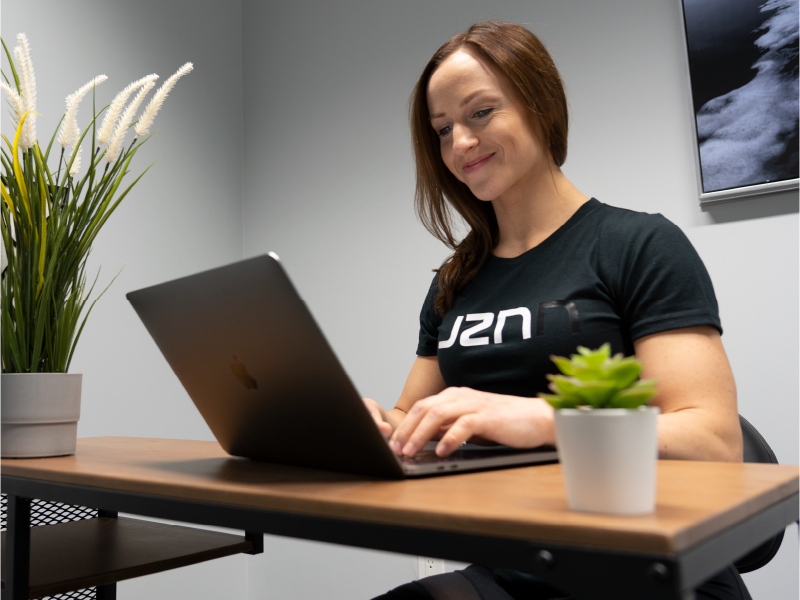 Ongoing Coaching Support
All Unbreakable Bodies members have access to a private Facebook Group where additional support and resources are provided. Members can upload practice videos for coaching feedback as well.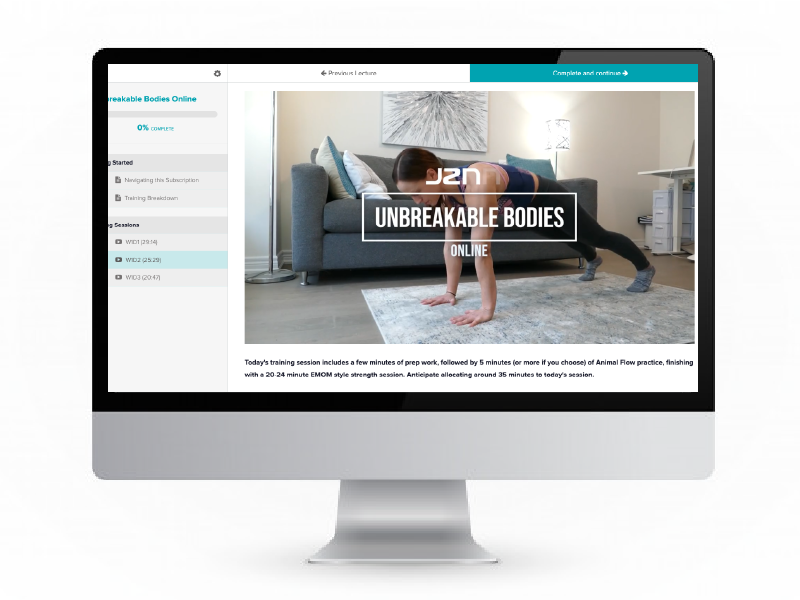 Detailed Workout Instructions
Each training session will included coaching instructions and easy follow-along format. However, if "quick" access is your preferred route, each workout will also have a written description with an accompanying demo video link.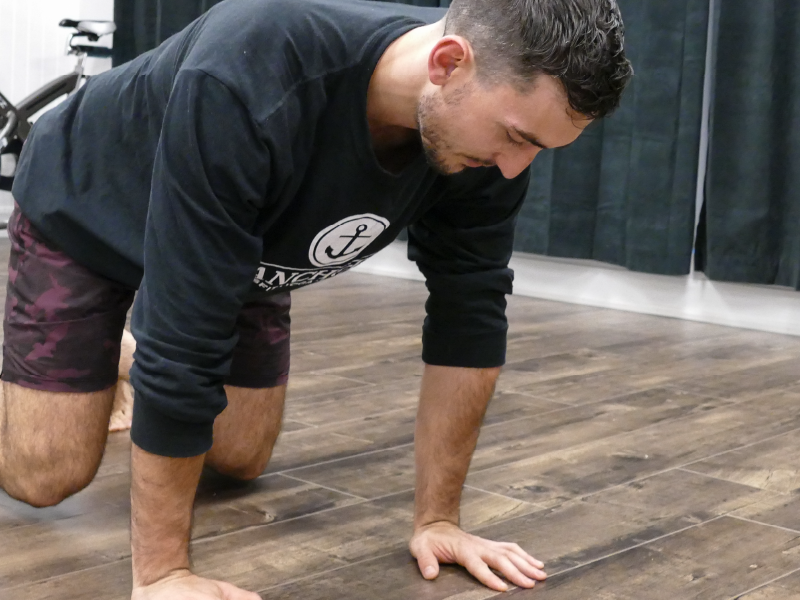 Access to ALL New & Existing Content
As long as you're on the subscription, you will have access to all content added to this movement series. This means trying new workouts weekly or going back and re-doing some of your favourites.
Unbreakable Bodies Online is only $40+HST CAD monthly.
Get ongoing access to new classes added weekly!
(Not sure if Unbreakable Bodies is a fit, or only require short-term access? Choose the bi-weekly payment option to give it a go.)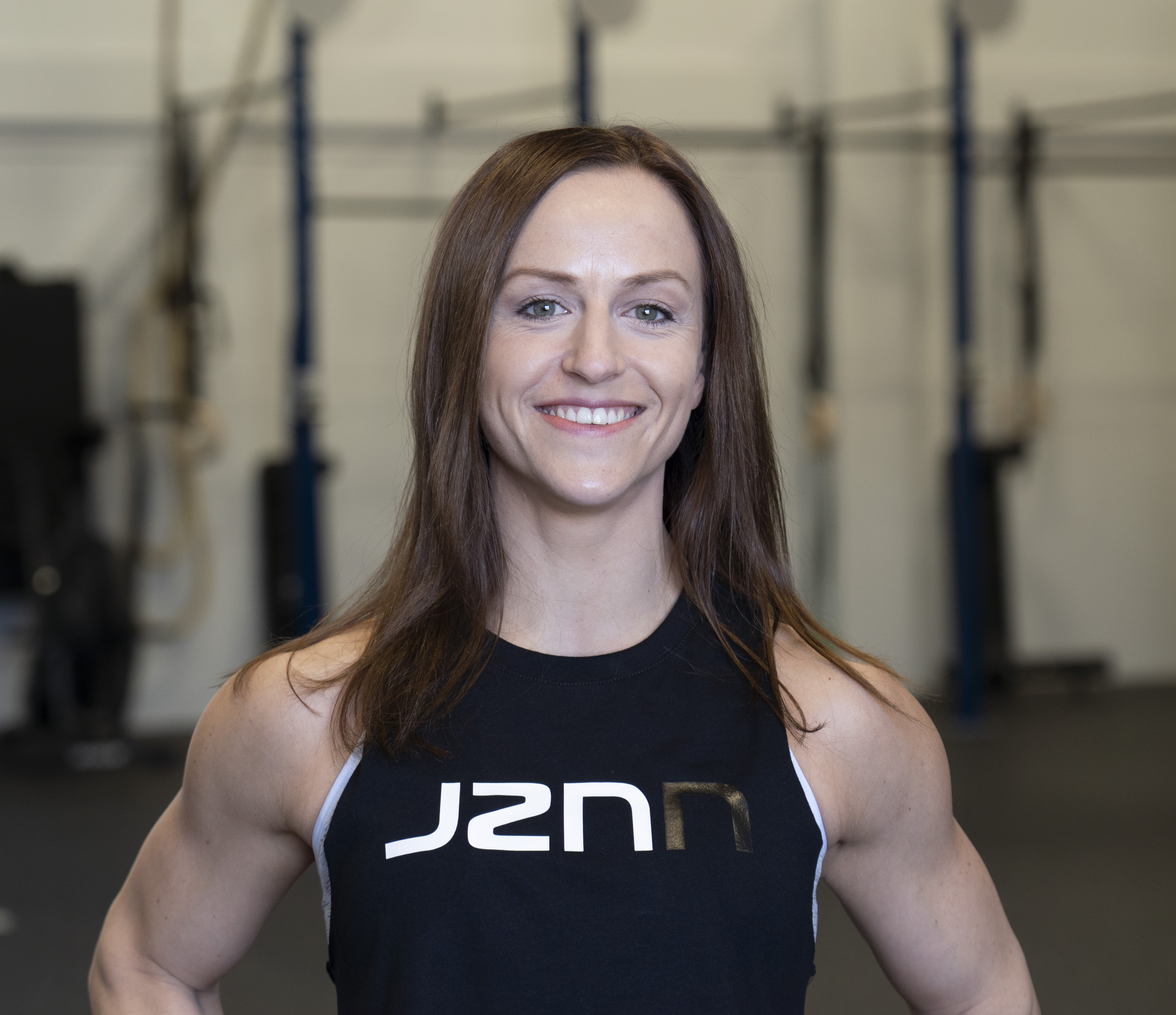 I'm Jenn, Founder of J2N Fitness
J2N was created to inspire, educate and empower individuals to build strong, resilient bodies that can support them through life.
Using online coaching (like this Unbreakable Bodies Online class), in-person coaching and workshops, we make movement and nutrition education SIMPLE. It's about building healthy habits and practices for the long-term, and have found that simple most often = consistency, which is an important part of that process.
Learn more at www.j2n.fit.
Program FAQ:
"How will this support my other training programs (i.e. CrossFit class)?
The goal of this class is to help build strong, mobile, resilient bodies so that you DO have the freedom to participant in whatever other activities you like. Think of it like an extra fun accessory building class. It does not mean it will be easy, but it is meant to support other areas of your life, not take away from them.
If you attend a CrossFit gym, for example, improving range of motion in areas like your hips and shoulders will help you improve positions in movements like the overhead squat. As you strengthen your shoulders, it will help in your press and pull movements like handstands and pull ups.
"What kind of equipment do I need?"
None! Seriously. My goal is to keep this accessible to everyone and I know it isn't realistic for everyone to go out to buy a home pull up bar or other equipment. All you need is some space and YOU!
There will be times I suggest grabbing a few items. For example, a mat or something soft like a towel for under your knees, or a broom stick for some shoulder openers.
"What level do I need to be to attend?"
This program is open to all levels of fitness. There will always be different progressions and options provided to ensure that each participant gets the most out of the session, and of course, stays safe.
"How many days per week is this program?"
Because this is a new program, full workouts will be posted 3 days per week at the beginning of the week. This way, you have flexibility to do the workout on whatever day makes the most sense for you.
Additional workout and mobility tips will be provided for those who want a little extra.
Over time, additions may become weekly. The goal is that you will have a large repository of training videos you can easily access at any time.
"What are the weekly membership policies?"
This program is run on a subscription basis, charging bi-weekly at a rate of $25+HST or monthly at $40+HST (CAD)
Please note:
Monthly or bi-weekly membership will come out based on your sign up date.
Should cancelation be required, you must email [email protected] a minimum of 24 hours prior to the start of your new billing cycle.
Members will receive access to a private Facebook group where workouts tools and additional coaching and community support is provided.
Once membership is cancelled, access to the group will be removed. You may always re-subscribe at a later time.
"Do you have other coaching options?"
If you are looking for something more customized for you (i.e. based on your equipment, skills goals and volume needs), a full remote coaching option is also available.
Please contact [email protected] for more details on those services.